So, winter's coming which means I can't keep a balcony window open for hours, in order to keep my fishing pole based EFHW outside. As many of you already know, balcony dwelling isn't really compatible with HF antennas due to lack of proper space.
The only acceptable antenna for apartment dwellers in the winter is the weird/finicky magloop. Sooo … I started to build a magloop. Plenty available plans and calculators online, Google's your friend.
Big loop is a 4 meter long, 6 mm diameter copper pipe tubing – comes out at about 1.2 meters in diameter. Small loop's diameter should be around 20% of the big loop's diameter, done from 1.5 mm stranded wire. Antenna support is made from:
25 mm diameter PVC pipe (I got a PPR pipe at first, but it proved to be way too soft), cut into one 1.8 meters long mast and two 60 cm horizontal arms
one cross fitting in the center of the big loop
3 T-fittings for the top and side edges of the big loop
some 3D printed parts to keep the small loop in place and aligned with the big loop (which look like horns, hehe)
variable air capacitor, dual section 0-323 pF and 0-18 pF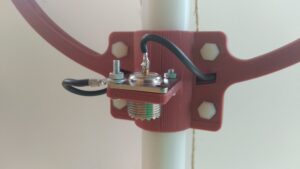 The trouble with magloops is they're very sensitive to the variable capacitor position. I also intended to put the magloop on the balcony and didn't want to tune it by hand each time (which is also kinda impossible). Therefore, a reliable method of turning the capacitor's shaft was needed … which lead to a small contraption made of: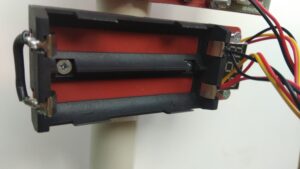 The Wemos D1 board starts up and connects to my Wifi, then listens on a socket to which I can send commands from a basic Python client (like QRY to print out the current stepper position, DSP to turn on/off the OLED screen, FWD/REV to move the motor forward or in reverse by 50 steps for fine tuning and of course +steps and -steps to move the stepper forward or backward).
Does it work ? yes, decently good once you tune the capacitor values which I have to admit it's kinda best done by ear. It's pretty nifty to enter a command in the Python client and view the waterfall moving (remember, magloops are very narrow in bandwith, which is both a blessing and a curse).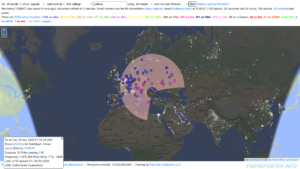 Now, why is this post called "50% successful" ? there are two major problems here:
SWR was crap in the balcony due to having too much metal around the magloop. In the intended position, I couldn't get a SWR below 5. Moving the loop to the middle of the living room, away from metal, gave me SWRs between 1.7 and 1.2 which would be nice, except …
the variable capacitor I got is an air capacitor, which can't keep up with the created voltages. Anything over 5W in transmit turned it into a lovely spark plug 🙁
Turns out vacuum capacitors are available, but very expensive and I don't consider it to be a proper investment, considering the first point above. In case the COVID lockdown continues and I get really bored, I might try to build one myself as TA1LSX did. For now, the magloop is confined to its intended place on the balcony and serving an SDR stick monitoring FT8 on 40m.
In case you're interested in any source code for the above, please let me know.